Hire Charges will be revised from 1st May 2023
The increase is small but necessary to cover the significant rise in gas and electricity costs.  We will be offering hire sessions of both 4 and 8 hours, more flexibility to use different parts of the premises and a 20% reduction for those who book more than 4 times per year.  Charges for bookings related to Christian Ministry may be reduced by negotiation.
Our bright and cheerful Church Hall – for all the community, for every occasion!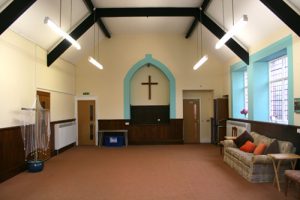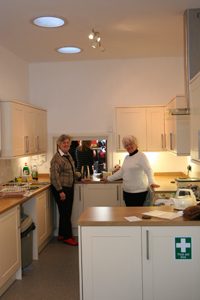 Please note that no alcohol may be brought onto the premises and we reserve the right to decline bookings for activities incompatible with the Christian ethos of the Church. We will not permit occult or spiritually dark activities, practices from false religions such as yoga or Halloween parties.
Hire Charges:
We love to see our premises being used by the whole community and encourage private hirers; we need to make a small charge to cover electricity, heating and maintenance costs.
Regular hirers who book for 3 or more sessions per year: £30 per session
Occasional hirers: £35 per session
A session is typically a morning, afternoon or evening – times are flexible!
Charges include use of tables, chairs, kitchen, crockery, cutlery etc. The Church has a Phonographic Performance Licence which permits you to play music from e.g. a CD.  Regular hirers must arrange their own insurance.
Please download a Lettings Agreement for further information or use our contact form to get in touch with our Bookings Steward. Hirers are required to agree to comply with our Safeguarding Policy which can be downloaded here.