The church building was built in 1909. This is an extract from a publication describing the opening day.
The Wesleyan Methodists of Yealmpton awoke that day in joyous mood. Following their efforts over the last three years, their own handsome church was finally to be opened. The land on which it was being built (in Roohouse Field, Torre, adjacent to the GWR atation) had been generously donated in 1906 by Mr Isaac Foot Snr, a member of the much respected Plymothian Methodist family. The church, designed by Mr F A Wiblin, had been built of stone in the late Gothic style by P Prowse and Son. Having given witness in the village for nearly 90 years, using various meeting places, the Wesleyans could now look forward to having a permanent home of their own.
On the day of opening – Wednesday 1 December 1909 – the smartly falling rain did not prevent a large number of ladies and gentlemen attending. The functions began with the formal opening of the church gates by Miss Ethel Wakeham with an inscribed gold key. They were all delighted with the beautiful church – not forgetting that "God's Church was not built of mortar and stone, but of hearts and lives consecrated to God and living to His honour and glory".
The company adjourned to the roomy hall where a capital luncheon awaited them. A service, characterised by much heartiness, was then conducted by the Rev F R Duffill (Circuit Superintendent) supported by Rev C Ridge. Following a public tea, a crowded meeting was held in the evening.
The Hon Treasurer of the venture, Mr Isaac Foot Jnr, reported also that prior to today's events, a sum of £836 had been raised towards the building fund outlay of £1,200. During the day a further £70 had been raised, this perhaps being made up to £100 and donations amounting to £15 had been received towards furnishing the church. A long day indeed of great celebration for Yealmpton Wesleyans.
Recent changes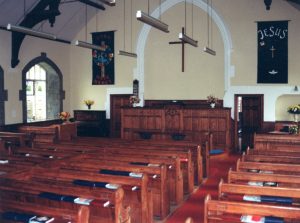 Little changed in the first 90 years; this photo shows the original pews before major improvement schemes in 2000 to create a more flexible and comfortable building.  These included the removal of the pews, new ceiling cladding, a new heating system, improved lighting and a carpeted and levelled floor.
In 2007, the kitchen was extended and fully re-fitted and modern toilet facilities added to accommodate disabled visitors.   Another major project was undertaken in 2014 to replace the old entrance porch with a new extension incorporating an extra Foyer/Meeting Room.  The new building was opened by local MP, Gary Streeter, on 13th September 2015.
If you know any more history of Yealmpton Methodist Church – please let us know so we can add it here!